Image credit: Unknown
SOFT COLOR PALETTES
People crave peace and comfort in their homes – which means less jarring colour palettes and more soft, pastel tones, and neutral colours. We are not the ones to think the Pantone Colour of the year is correct (acid green!?)
Image credit: Unknown
TRADITIONAL CABINETRY IN COLORS
Beyond the now abundant white and grey, we will be seeing a lot of taupe, blue and green cabinets in kitchens, pantries and laundry rooms done in traditional style. We're going to see less open shelving and more closed cabinetry– keeping clutter out of sight and lines clean and simple.
Image credit: Waterstone
RETURN OF SILVER
While brass will still be widely used, we'll be seeing a resurgence of polished nickel hardware and plumbing fixtures again. When compared to slightly dated satin nickel and cold industrial chrome, polished nickel has a slightly warmer cast and more depth to it. It looks super clean and classic.
Image credit: Curated Interior
UNIQUE MARBLE & STONE
Various Insta-famous interior designers picked some totally unique quartzite for their kitchens, kicking off a trend for people who use more unique stone finishes in kitchens and bathrooms. We predict we will be seeing more brown based stones as well as those with green and blue casts to them.
Image credit: Unknown
CHECKERED STONE OR PAINTED FLOORS
Classic looking flooring like checkerboard marble and stone floors in kitchens will be a hot trend (like last years cement tile trend). Also graphic, painted floors will make a big comeback.
Image credit: Unknown
BLACK PENDANTS
A graphic punch is needed now and then, perhaps in the form of black pendants in a kitchen or over a table?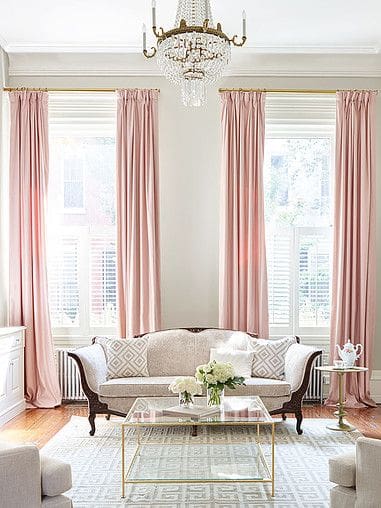 Image credit: Unknown
TRADITIONAL FORMAL CURTAINS / DRAPERIES
Tailored, detailed and custom made- nothing finishes off a space like draperies. We'll be seeing more and more luxurious and old school formal style drapes this year keeping in the theme of cosy spaces.
Image credit: All the pretty sweet things
TRADITIONAL DESIGN WILL REIGN
Lots of antiques, details, flourish, floral chintz, skirted tables, slipcovered seating and classic pieces but used in unique combinations with modern flair.
Image credit: Vindy.nl
BRICK & PALE FLOORS
Limed oak and other pale wide plank wood flooring became hot in 2016, and it will only continue. Also look for more use of brick indoors in entries and other spaces needing durable materials.
Source: Elements of Style