Best mattress for back pain
If you have woken up with an aching back, you will recognise how mattress quality has a direct correlation to back pain. Up to 80% of people will experience back pain at some point in their life, and for 1 in 6 Australians, it is an ongoing and persistent issue. The best mattress for back pain is one that offers adequate support, promoting correct sleep posture, keeping your spine in its naturally neutral position.
Your mattress could worsen or alleviate the back pain you experience, or even be the primary cause of it. It is important to not only consider your mattress, but also your sleeping position, your pillows and your bed base. Read through our guide to discover how a mattress can exacerbate back pain, and our recommendations on the best mattress for you.
Warning signs your mattress is causing your back pain
If you are continuously wake up with a sore and stiff back, your mattress may be to blame. If your mattress is past its prime, too soft or firm, or does not support your preferred sleeping position, it could be contributing to your back pain. If your aching back feels better after you've been up and moving for a while, read the tell-tale signs below to see if your mattress is the cause.
1. You cannot remember how old your mattress is
Over time, memory foam mattresses tend to lose their 'memory', with the foam softening with age. Memory foam has a chemical reaction to your body heat, meaning a softer or harder mattress with the seasons.  For some, the 'sinking' feeling of a memory foam mattress can inhibit the ability to roll or move in the night. A natural latex mattress will never sink, and the natural buoyancy will offer firm yet cushioned support, allowing complete freedom of movement.
2. You feel like you're sleeping in a hammock
If you feel like your hips are sinking into your mattress, with your head and feet up in the air, this means that your mattress has lost its support. A sinking mattress will not allow your spine to be aligned, and is can restrict your night time mobility, leading to a less than optimal sleep.
3. You cannot get comfortable
Your mattress should give you the perfect balance of support and pressure relief, allowing you to stay comfortably asleep. If you're waking often and not achieving that deep, restful REM sleep, your mattress may be to blame.
4. You wake up with back pain
This may be the most obvious sign, however, a problematic mattress can cause spinal misalignment. If you are waking up with back pain, your mattress could be a contributing factor.
Being a leading cause of disability, back pain is one of the most common reasons that people seek medical help or miss work. Muscle aching, shooting, burning or stabbing sensations can all be how back pain presents itself. Bending, twisting, lifting, standing or walking can exacerbate the symptoms.
UPPER BACK PAIN
Not as common as neck or lower back pain, upper back pain occurs anywhere from the base of your neck to the bottom of your rib cage. Upper back pain can be caused by poor posture, strains, disk problems, fractures or arthritis.
LOWER BACK PAIN
Most lower back pain is caused by injury, caused by muscle sprains or strains, or lifting heavy items. Lower back pain is more likely to occur in individuals between the ages of 30 and 50, as changes in the body occur with aging.
BEST MATTRESS FOR BACK PAIN 2022
Natural latex has an unique buoyancy that provides surface cushioning, support and firmness. It also provides a cradling effect, while maintaining complete spinal alignment and pressure relief. The correct latex mattress can lead to welcomed relief as you lie down, let your ligaments and joints fully relax, and ease your back pain throughout the night.
Ensure you look for a latex mattress that has zoning, as the zoning is designed to reduce surface pressure, so you're less likely to toss and turn and aggravate back pain symptoms. Furthermore, latex won't trap or produce heat or sweat, so your body temperature will stay regulated throughout the night.
If you do change sleeping positions, it is simple to do so on a latex mattress, as latex has a 'push up' and buoyancy effect. On a latex mattress, you will never sink so deeply that it is difficult to move – this is a problem that some people experience on memory foam mattresses.
We strive to handcraft mattresses that fit any sleeper. We craft each mattress to suit your individual requirements, so you can achieve restorative and rejuvenating sleep. We offer a boutique range of pure and natural latex mattresses – read on to discover which mattress is right for you.
PURE INDULGENCE LATEX MATTRESS
The perfect mattress for those who prefer cloud-like comfort, the Pure Indulgence features a 150mm support core of firm density latex, layered between either 50mm of soft or firm density latex comfort layers. Our latex features no less than seven posture zones, aiding in correct spinal alignment and pressure relief. Double-sided and reversible, this ensures that this mattress will last the test of time – backed by a guarantee of 21 years. The Pure Indulgence features a silk cover, with handles on each side for easy rotation and flipping. Offering buoyant support and the ultimate in comfort, you can experience pain and pressure relief. For advice on which density would suit your requirements, please speak with a Sleep Specialist.
pure comfort latex mattress
Our best-selling Pure Comfort mattress provides superior support and pressure relief, evenly distributing your weight across the mattress. With three distinct comfort levels to choose from, it is best to discuss your requirements with a Sleep Specialist to determine which density will keep you adequately supported and comfortable. Encased in a removable and washable Tencel™ cover, your temperature will remain regulated throughout the night. Many of our customers who have suffered from chronic back pain have found relief by investing in a high quality Pure Comfort latex mattress.
Our multi-award-winning Pure Support Latex Mattress is ideal for those seeking a 100% natural mattress that provides unrivalled support and gentle pressure relief. This mattress is ideal for back pain sufferers, as the medium – firm feel will keep hot sleepers on top of the surface, as well as reducing pressure points and may assist in pain relief when your spine is correctly aligned. Ideal for side, back and stomach sleepers, the Pure Support is rated one of the best mattresses on Product Review. The 200mm of either Medium or Firm density latex allows your muscles to fully relax to achieve the ultimate posture for a rejuvenating sleeping experience.
Achieve the perfect balance of gentle comfort and buoyant support on our Pure Trio Latex Mattress. Featuring three layers of latex in a soft, medium and firm density, this mattress will allow you the flexibility to alter your comfort level as your comfort preference change over time. With seven posture zones, this mattress provides targeted support to your shoulders, hips, and lower back for proper alignment. Sleep with the firm layer at the top to achieve a firmer mattress, or if you prefer cloud-like comfort, sleep with the soft layer at the top. Unlike hybrid mattresses, the Pure Trio features only 100% pure and natural latex. The Pure Trio mattress features complete personalised comfort and support, a 10-year guarantee and a removable Tencel® cover.
why is a good mattress important for people who suffer with back pain?
Buying a mattress is an important decision that will impact your quality of sleep and your health and wellbeing. Since quality of sleep affects many aspects of our lives, it's worth investing the time to choose your mattress carefully.
The wrong mattress may not provide correct spinal alignment and pressure relief, leaving your body with aches and pain. Sleeping on an old mattress that has lost is comfort and support means you're spending one-third of your day lying in misalignment and in an awkward and uncomfortable position. A misaligned spine and poor posture provides an opportunity for back pain symptoms to worsen.
The right mattress will offer a combination of pressure point relief and proper body and spinal alignment. When your body is comfortable and supported, you will be able to achieve a deeper and more restful night's sleep. With sleep quality determining the quality of your days, it is imperative that we select the correct mattress to improve our health and wellbeing.
find relief with an adjustable base
Adjustable beds can also be a good option for those who suffer from back pain, as the right resting or sleeping position can provide targeted pressure relief from your lower back by distributing the weight more evenly. Adjustable beds may assist with some sleep conditions, such as sleep apnoea, neck pain and hip pain.
What TO look for in a mattress when you suffer back pain
Most sleepers find a medium to medium-firm mattress is a great place to start for relief from back pain. However, despite what some mattress companies may tell you, there is not one mattress that works for everyone, and a medium or firm density will feel softer or firmer to some. It is important that you look for good support and overall comfort for your needs.
Mattress Firmness
Essentially, mattress firmness is the term used to determine how hard or soft your sleep surface is. There is a common misconception that a medium or medium-firm mattress is best for those who suffer from back pain. Understanding your firmness preference, along with various other factors such as health issues, sleep position and body weight can determine which firmness will give you a good night's sleep. Speak with a Sleep Specialist today if you would like some specialised advice.
The choice of mattress material
There are three main mattress types available on the Australian market. Spring (pocket spring or traditional), memory foam or latex – with some mattresses being a hybrid combination of all three. So which mattress material provides the best support and comfort for those who suffer from back pain?
Latex has the body-cradling effect of memory foam, however, it also provides the long-lasting cushioned support without the chemicals. Ensure you check that your mattress contains 100% pure and natural latex without any fillers, foams or unknown layers to ensure your latex mattress lasts.
Typically, a gel memory foam mattress can assist with pressure relief, however, is made from harmful toxins and chemicals. Memory foam users have reported excellent pressure relief, however, memory foam can cause and retain heat.
A spring mattress typically features memory foam or a layer of latex on the top for cushioning. The most common complaint of spring mattresses is that the top layer collapses over time and loses its comfort.
FREQUENTLY ASKED QUESTIONS
Which mattress is good for back pain?
A mattress that is selected according to your unique sleeping position, weight and any health issues, providing adequate comfort and support.
Simply click here to request a free consultation or call our toll free helpline (1300 759 859) to obtain expert advice from one of our experienced and friendly staff.
Will a new mattress help my back pain?
Likely. It is important however, that you select a mattress that is suited to your individual requirements. We highly recommend speaking with a Sleep Specialist to determine which mattress may assist in relieving your pain.
Can a firm mattress cause back pain?
Yes - if a mattress is too firm, this can cause your spine to be misaligned, and pressure in the hips and shoulders.
Can an old mattress cause back pain?
Yes - an old mattress that has lost its support characteristics can cause spinal misalignment and a 'sinking' feeling which can be harder to move in the night.
Can mattress toppers help back pain?
This depends. Toppers are not meant to provide support, so placing a topper on an old mattress will not add support. Toppers will however, provide a layer of comfort for a mattress that is too firm.
Do soft mattresses cause back pain?
If you are sinking into a mattress too much, this can cause back pain, as the spine will not be aligned correctly. However, those who prefer a cloud-like mattress will be more comfortable on a softer mattress.
Do spring mattress cause back pain?
Any mattress can cause back pain if it is too old, has lost its support characteristics, is too soft or too firm.
Is a firm or medium mattress better for back pain?
This depends on the individual. A medium mattress may feel like a soft to another. It is important to consider individual preferences and consult an expert to determine the best firmness level for you.
Mattress shopping can be a daunting and arduous task. Especially for those who suffer from aches and pains and require a quality mattress that will provide adequate support and comfort. We recommend you speak to a Sleep Specialist to determine the best mattress for your individual requirements. With each mattress manufactured to order, we will be sure to provide a Sleep Solution that will provide many years of comfort and pressure relief.
FIND THE BEST MATTRESS FOR YOU
Speak with one of our Sleep Specialists to find the best mattress for back pain or any other sleeping challenges you may be experiencing.
We are beyond thrilled with our mattress. We researched all of the available mattresses and settled on Latex because it is mould resistant, bacteria free and a natural product. We sleep very well and look forward to going to bed and to the comfort and support of our new mattress.
Our 4th mattress as the family grows. Thank you for the great product.
Bought mattresses for the whole family and had excellent service. We are absolutely in love with our king mattress! Flexible and friendly delivery as well. I would highly recommend both the product and the team at the New Farm Branch.
Best mattress we've ever slept on, by far. Sales staff at Springwood were very helpful and knowledgeable. Communication was great, and the delivery costs were also very reasonable. Overall a great experience.
The mattress can only be topped by the service received from Sam and Judi. Would recommend to anyone. Thanks.
We have had latex mattress Australia mattresses now for 10+ years. I would never buy anything else. They have lasted so well and incredible to sleep on. Sam and the Latex Mattress Australia staff are so helpful. I would highly recommend them.
We are very happy with our latex mattress, it has made such a difference to our sleep. Sam and the team at Latex Mattress Australia were very informative and patient with our questions and delivery was no problem. Would highly recommend.
A very comfortable sleep every night. Price is worth the comfort.
My husband and I love our new mattress & topper. It is soo smooth and 99% organically made with high quality which is the reason we bought from them with no toxic chemicals and eco-friendly. We both are a side sleeper, we did make a good decision with trio, adding a topper on top of the mattress makes us feeling Cloud 9. Excellent customer service, and expedite feedback, well organised shipping. Specially thanks to Sam in Mosman store. Highly recommend!
Recommended by chiropractors
There is a good reason our mattresses are recommended by leading chiropractors.
One of the fantastic properties of 100% pure and natural latex is that it is incredibly supportive without feeling too hard. It moulds to the contours of your body whilst reducing pressure points.
Our latex also has seven posture zones to ensure your spine stays in line while you are sleeping.
Latex Mattress Australia offers a full 21 year guarantee which covers faulty workmanship and materials, from date of purchase (original purchaser only). Latex Mattress Australia, if satisfied that materials or workmanship is faulty (allowing for fair wear and tear), will repair or replace at our option with no charge for materials or labour.
WHICH IS THE BEST SLEEPING POSITION FOR BACK PAIN?
Since we spend around a third of our lives sleeping, the position we sleep in can have a dramatic impact on the severity of back pain. Learn ways to adjust your preferred sleeping position if you experience back pain in our blog post.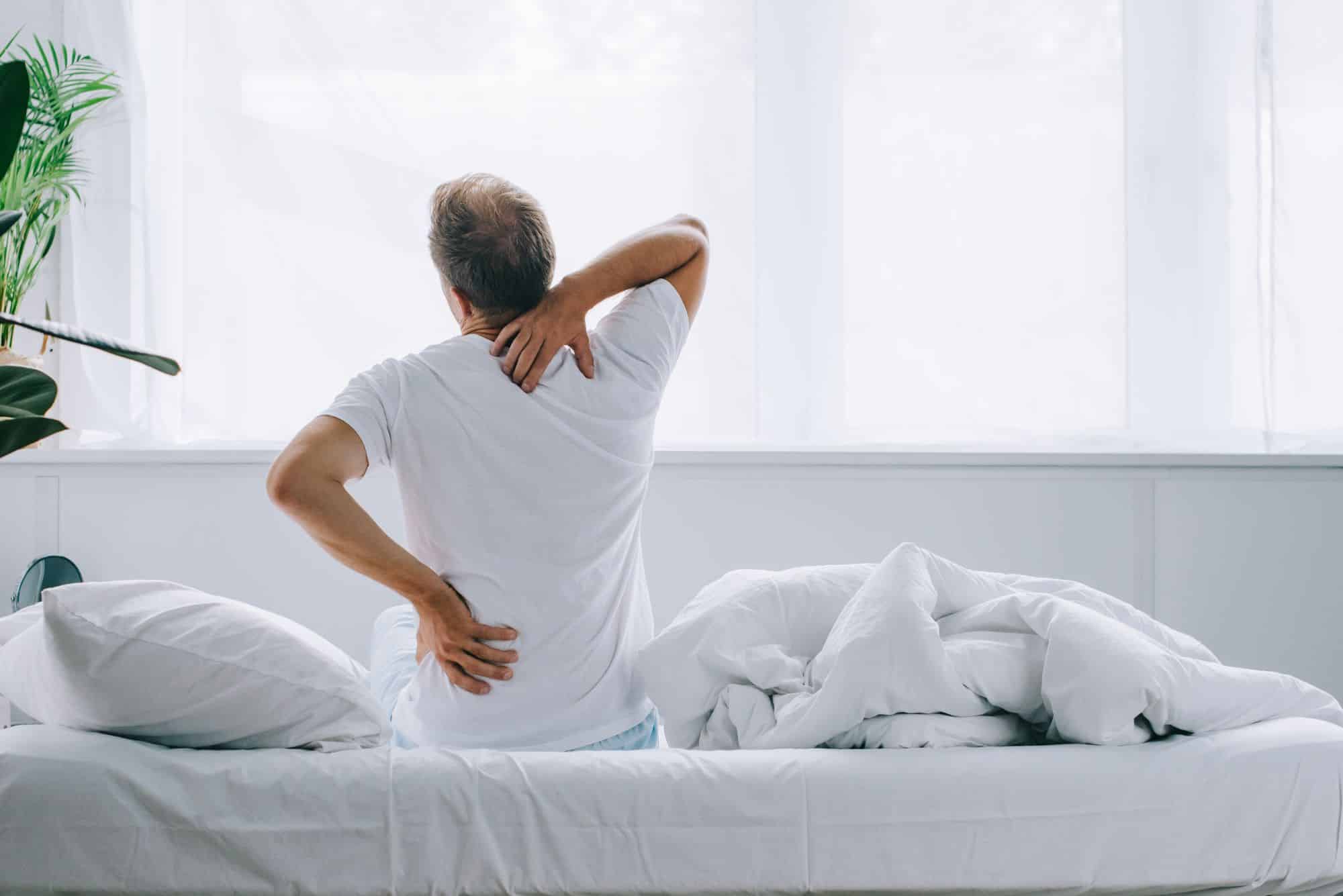 Please complete the form below to request our Brochure.