At Latex Mattress Australia, our high quality mattresses are endorsed by local chiropractors. As mattress artisans who have been expertly crafting luxury mattress for over 65 years, we have harnessed what we have learned through years of research and development to deliver exquisitely comfortable and supportive mattresses. Proudly Australian owned and operated, we handcraft mattresses to your exact comfort specifications for the perfect night's sleep, night after night.
We spend a third of our lives sleeping, which means we can either spend a third of our lives on a supportive mattress optimising our spinal alignment or on an unsupportive mattress that results in a back ache. When you also consider the amount of time allocated to siting at desks and looking down at devices throughout the day, the unfortunate truth is that many of us spend the majority of our 24 hours in postures that lead to back, neck and hip pain. Not only does being in pain impact on our enjoyment of day to day life, it can compromise the quality of our sleep – an essential foundation of excellent health. While the occasional night of poor quality sleep will not have any lasting effect, regularly disturbed sleep will begin to take its toll on our wellbeing.
The Best Chiropractic Mattress in Australia
Pure latex mattresses are the perfect complement to your chiropractic adjustments. Rather than undoing all the good work your chiropractor has done, latex offers enhanced support for your spine, ensuring you maintain the correct posture whatever your preferred sleeping position. With seven posture zones for correct lumbar support and spinal alignment, latex contours to your body negating undue pressure to reduce back and hip pain. The buoyant cushioning minimises partner disturbance and offers a cloud-like comfort while remaining firm enough to provide sleepers with evenly distributed support.
Why Chiropractors Recommend Latex Mattress Australia
Having finessed our bespoke mattresses over the last 65 years, Latex Mattress Australia comes highly recommended by chiropractors. With adjustable firmness options to suit your comfort preferences, we handcraft the ideal sleeping surface for side, stomach and back sleepers without compromising spinal alignment. The seven orthopedically designed posture zones support your body from head to toe providing luxurious pressure relief and superior comfort. Each mattress is encased in the finest natural materials with a removable washable cover to keep your mattress fresh.
Our master craftsmen hand stitch each mattress in Queensland for a quick standard delivery throughout Australia so you can slide onto your new mattress as soon as possible. We have a long standing arrangements with our dedicated courier company to keep our delivery fee minimal. As we want you to have complete peace of mind in your purchase, we offer a 21 year warranty for our mattresses and a 10 year warranty for our adjustable bed bases.
How a Latex Mattress Help You Combat Back Pain
There is a reason why a latex mattress is considered to be the best mattress for back pain. Latex is the most supportive material for your spine. Keeping it in a neutral position, latex offers buoyant comfort and firm support for a consistently good night's sleep. On the other hand, a mattress that does not provide adequate spinal support will quite literally throw your spine out of alignment. This can happen with memory foam and innerspring mattresses which will often lose their buoyancy over time leading to a 'hammock' like sagging or a 'meet in the middle' experience for partners sharing a bed.
Our Range of Chiropractic Mattresses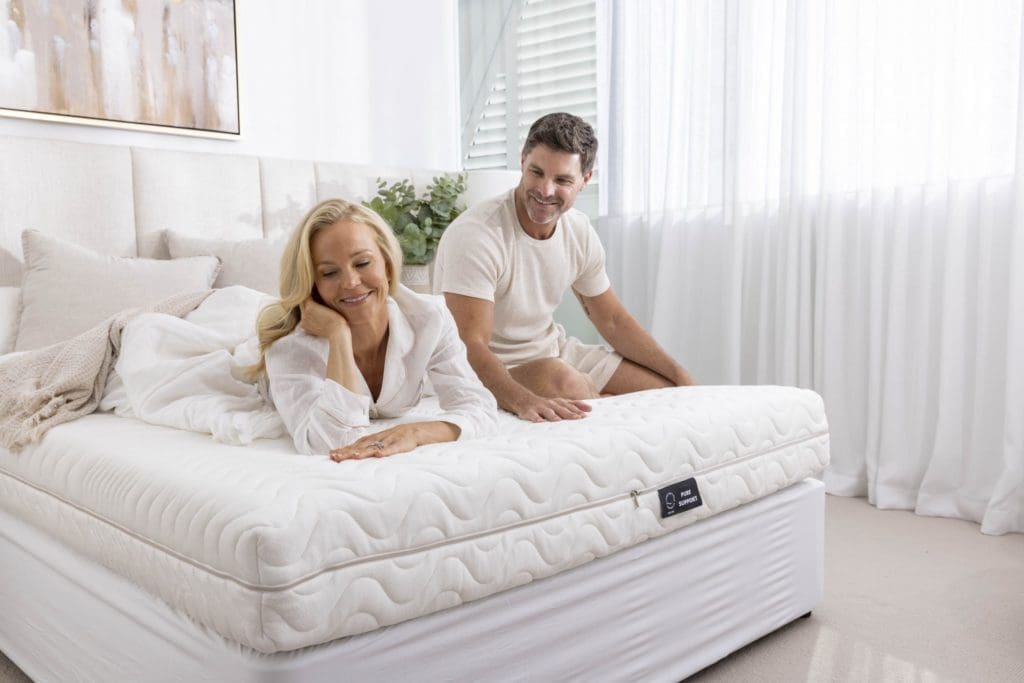 The award-winning Pure Support mattress is ideal for those who seek buoyant support and gentle pressure relief.
The perfect mattress for those looking for a firmer, traditional latex mattress feel. Providing quintessential support to all areas of the body in this classic mattress unchanged in construction in over 65 years.
Our best seller. The Pure Comfort is our most popular mattress, and is sure to provide the solace and support you have been craving.
The perfect mattress for those needing more comfort in their lives without compromising on support. Ideal for couples, all body types and sleeping styles, and those needing more comfort for pain management.
Features of Our Chiropractic Mattresses
Firm, medium or soft comfort finishing to suit your preferred sleeping surface
Buoyant support and irresistible comfort
Complete spinal alignment with seven orthopedically designed posture zones
Healthy, 100% pure and natural sleeping environment with zero chemicals
Luxurious pressure relief
Will last up to 30 years with a 21 year warranty protecting your purchase
Common Chiropractic Issues That a Latex Mattress Can Help With
The Latex Mattress Australia Difference
Our mattresses are made from 100% pure and natural latex which we then manufacture using the traditional Dunlop process. This leaves it in its purest form without the need for any fillers or synthetic materials. The result is a good quality mattress that is heavier, denser and more durable than a latex mattress manufactured using the Talalay process (which combines around 30% synthetic rubber with 70% latex) and mattresses made from other materials you may find on the market. Our latex is certified non-toxic and free from fire retardants, chemicals and polyurethane foams by the highly respected Eco-INSTITUT in Germany. It is also impurity free and naturally hand-harvested from renewable, ecologically-responsible plantations in Malaysia.
Choosing Your New Mattress
Our Sleep Specialists can offer personalised advice and support to help you choose a new mattress that will enhance your chiropractic adjustments and offer your spine the support it needs to maintain alignment through the night.
If you would like some support choosing the right mattress, you are welcome to visit us in store for a face to face consultation or you may wish to arrange a virtual consult via the 'Support' tab on our website. Alternatively, review our products and prices, along with our latest offers, via the 'mattresses' tab on our website shop.
Other Chiropractic-Approved Products
For further relief from back pain, consider purchasing an adjustable bed bed which will fit easily onto your bed frame and offer you the ability to elevate your upper back or legs. Our ergonomically-crafted, softly sculpted and supportive latex pillow will also complement your chiropractic mattress by cocooning your head in comfort and elevating your neck to the perfect position.
Do chiropractors recommend a latex mattress?
Yes - chiropractors do recommend a latex mattress, as latex mattresses offer excellent spinal support and keep your spine in a neutral position while you rest.
Should I speak with my chiropractor prior to choosing a particular firmness?
This is completely up to you. Depending on your back issues or injuries, it may be beneficial to speak with your chiropractor. Our Sleep Specialists can provide an informed recommendation, based on your body weight and comfort preferences.
Handmade to order by our master craftsmen, your new latex mattress will provide you with rejuvenating and restorative sleep for years to come. Speak to a Sleep Specialist to determine which king latex mattress will suit your requirements.
FIND THE BEST MATTRESS FOR YOU
Speak with one of our Sleep Specialists to find the best mattress for back pain or any other sleeping challenges you may be experiencing.
We are beyond thrilled with our mattress. We researched all of the available mattresses and settled on Latex because it is mould resistant, bacteria free and a natural product. We sleep very well and look forward to going to bed and to the comfort and support of our new mattress.
Our 4th mattress as the family grows. Thank you for the great product.
Bought mattresses for the whole family and had excellent service. We are absolutely in love with our king mattress! Flexible and friendly delivery as well. I would highly recommend both the product and the team at the New Farm Branch.
Best mattress we've ever slept on, by far. Sales staff at Springwood were very helpful and knowledgeable. Communication was great, and the delivery costs were also very reasonable. Overall a great experience.
The mattress can only be topped by the service received from Sam and Judi. Would recommend to anyone. Thanks.
We have had latex mattress Australia mattresses now for 10+ years. I would never buy anything else. They have lasted so well and incredible to sleep on. Sam and the Latex Mattress Australia staff are so helpful. I would highly recommend them.
We are very happy with our latex mattress, it has made such a difference to our sleep. Sam and the team at Latex Mattress Australia were very informative and patient with our questions and delivery was no problem. Would highly recommend.
A very comfortable sleep every night. Price is worth the comfort.
My husband and I love our new mattress & topper. It is soo smooth and 99% organically made with high quality which is the reason we bought from them with no toxic chemicals and eco-friendly. We both are a side sleeper, we did make a good decision with trio, adding a topper on top of the mattress makes us feeling Cloud 9. Excellent customer service, and expedite feedback, well organised shipping. Specially thanks to Sam in Mosman store. Highly recommend!
Recommended by chiropractors
There is a good reason our mattresses are recommended by leading chiropractors.
One of the fantastic properties of 100% pure and natural latex is that it is incredibly supportive without feeling too hard. It moulds to the contours of your body whilst reducing pressure points.
Our latex also has seven posture zones to ensure your spine stays in line while you are sleeping.
Latex Mattress Australia offers a full 21 year guarantee which covers faulty workmanship and materials, from date of purchase (original purchaser only). Latex Mattress Australia, if satisfied that materials or workmanship is faulty (allowing for fair wear and tear), will repair or replace at our option with no charge for materials or labour.
WHICH IS THE BEST SLEEPING POSITION FOR BACK PAIN?
Since we spend around a third of our lives sleeping, the position we sleep in can have a dramatic impact on the severity of back pain. Learn ways to adjust your preferred sleeping position if you experience back pain in our blog post.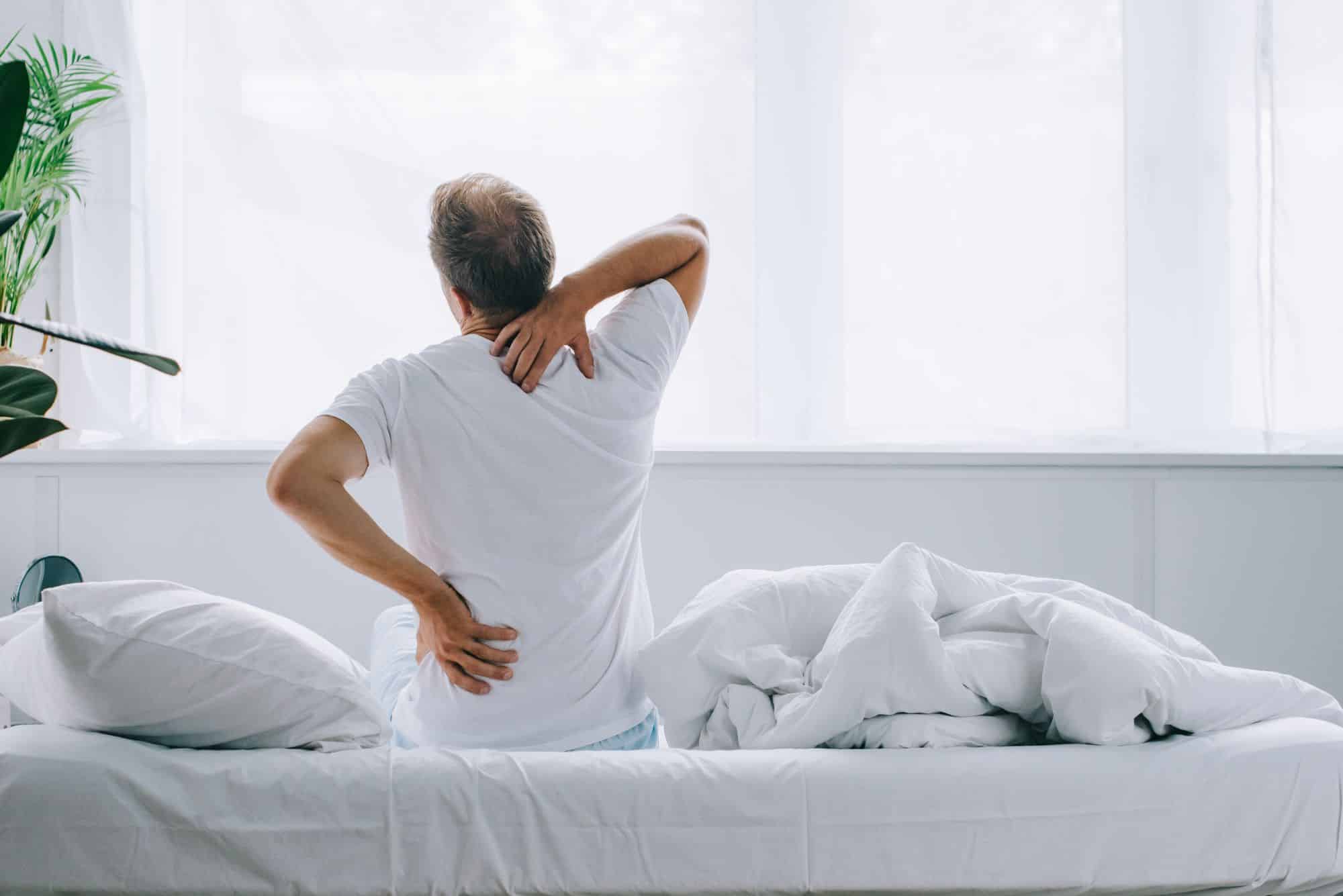 Please complete the form below to request our Brochure.