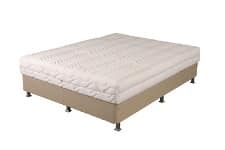 If you're thinking about buying a new queen mattress, or giving your existing one a revamp, latex mattress products might be an option for you. We offer a range of latex mattresses in queen size at varying levels of firmness. Alternatively, you could instead consider a latex mattress topper, which provides a comfy layer of latex that goes over the top of your existing mattress.The queen mattress is the most common mattress of all bed sizes. Its dimensions are just over 2 metres in length by just over 1.5 metres in width. Although it's a comfortable amount of space for two people to sleep in, even more space is always better. Sometimes though, the dimensions of a room won't allow for a king mattress, in which case the queen mattress is your next best bet.
If you're a back pain sufferer you may find that latex products will ease your pain, a latex mattress topper can actually be of use when travelling. Since the queen mattress is the most common size mattress, having a topper in this size will allow you to use save your back from sleeping discomfort when travelling to friends' places or hotels.
For more advice on bed sizing, latex products or the appropriateness of a queen mattress for you, contact us or come and see us in store in Brisbane or Sydney. You can try different sized mattresses in our show room to find out what will best suit you. Since our mattresses are all made from 100% latex, we're sure you'll find our mattresses supportive yet extremely comfortable.